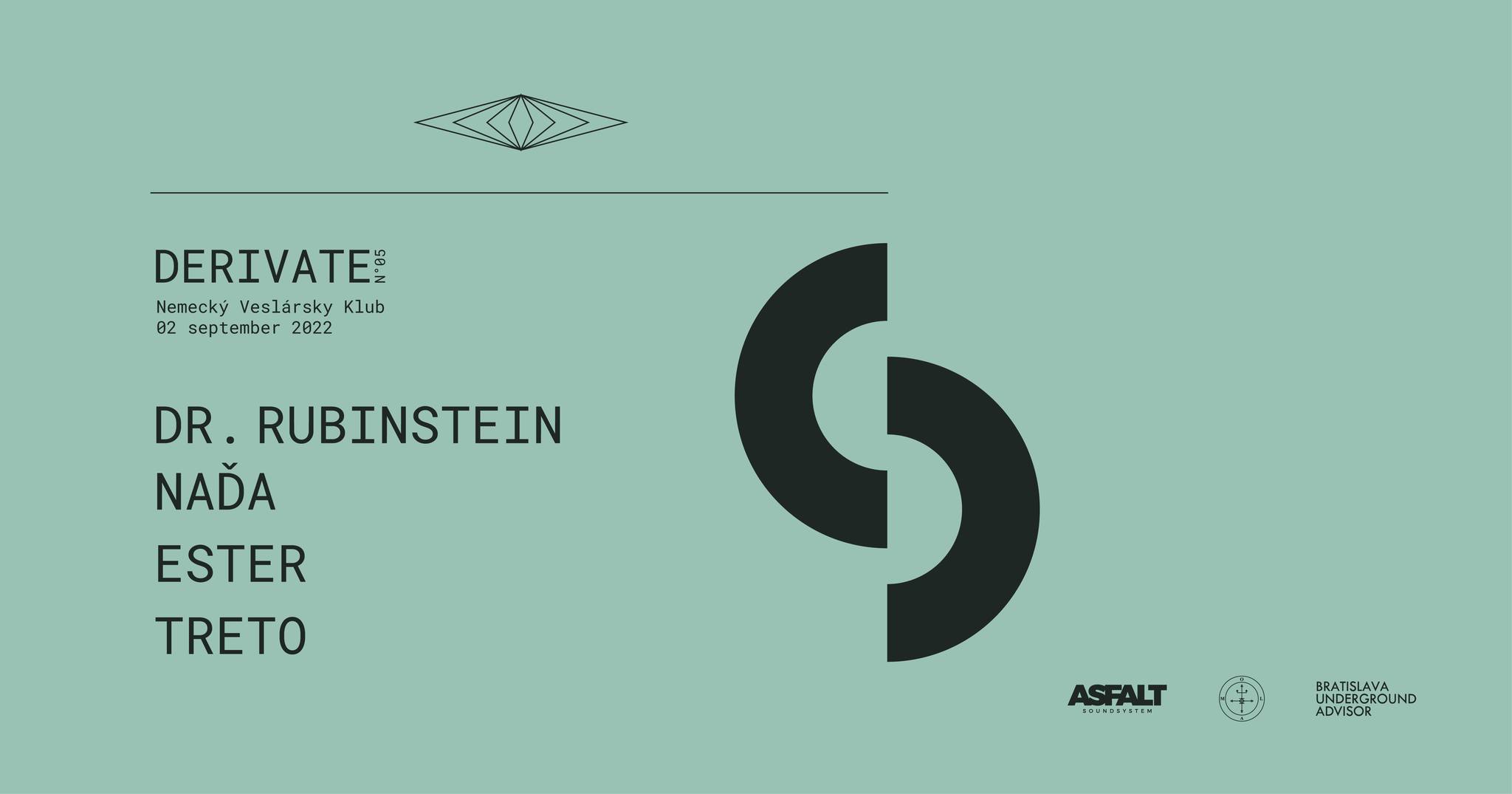 Date
02 – 03/09/2022 [Fri – Sat]
Expired!
Derivate #05 w/ Dr. Rubinstein • Naďa • Ester • Treto
??. ??????????
https://www.listentothedoctor.com/
https://soundcloud.com/dr-rubinstein
Dr. Rubinstein is the guise of Russian-born Israeli artist Marina Rubinstein. Since moving to Berlin in 2012 her unique rave-focused style and performance have been marked by infectious energy, impeccable selections spanning multiple genres and decades, and acid basslines.
A vinyl-enthusiast at heart, Dr. Rubinstein has long stood out in the underground music scene and forged an international following without the press and backing of a label, traditionally a pre-requisite for success in the industry.
Dr. Rubinstein tours extensively throughout Europe, the United States, South America, Asia and Australia. She performs at distinguished venues such as Bassiani, BASEMENT NY, Fuse and De School, as well as being a regular act at Berghain's Klubnacht events.
She also headlines some of the major electronic music festivals including Dekmantel, Melt!, Sónar and Lowlands Festival. Dr. Rubinstein recently founded Quarantine FM, a live-streaming project where she invites other artists to play records in her home throughout the pandemic.
???̌? [OLAM, SK]
https://soundcloud.com/nada_qina
Naďa started with DJing in her LAB. After two years of playing records only to a small group of friends, she made her DJ debut at the legendary club Fuga. Never afraid to go deep, her emotional musical selections are her own therapy and certain form of psychohygiene.
Naďa is no stranger to the electronic music scene in Slovakia. In 2014, she became a member of Counterpoint , a local DJ crew that consisted of her close friends. Loving the feeling of entertaining people, she co-hosted several events.
In 2017, Naďa became a part of Derivate team which led to joining the Bratislava based OLAM collective as a resident artist in 2022.
????? [Organizovaný Plevel, IT/CZ]
https://soundcloud.com/esterrrrrr
Italian-born, Prague-based DJ Ester started her music journey in 2018 when she introduced herself with her first dj set in her hometown. Since then she brings us a long, dark, escalating journey through her performance mainly inspired by the sounds of electronic body music, industrial and post-punk. You can also hear the influence of the Belgian new beat in her sets which is a big part of her selection.
In 2020 she joined the Prague audiovisual collective Organizovaný Plevel that became a second family to her. Together they started organizing parties called "SLET" which focuses on bringing the collective's favorite artists, showcase them to the local public and share the love for music with the others.
Ester is also a half of a duo Cursed Soil which she created with C4AT. After playing so many back-to-backs together and sharing the love for melancholic and harsh tunes, they decided that it would be the best option and since then they also started working on their own music.
But there are no borders in her music selection, you can also hear her play dark-ambient and oriental stuff that fill the gaps of silence in her life on daily basis.
?????
https://soundcloud.com/treto
Treto started his DJ career 15 years ago in the legendary club Krankenhauz in Trenčín. A true vinyl enthusiast, whose sets are a delicate mixture of electro, house and techno.
His DJ sets could be heard at various venues in Slovakia and Czech Republic over the past years and we are happy to see him on the Derivate line-up.
***********************************
soundsystem: ????
********************
visual control: ????_?????
********************
entry: 20 € (?? ???????)
********************
visual by Ivan Tatarchev Durgutovski
********************
location: https://goo.gl/maps/daynRA29U192
********************
Nemecky veslarsky klub info:
https://sk.wikipedia.org/wiki/Nemecký_veslársky_klub
***********************************