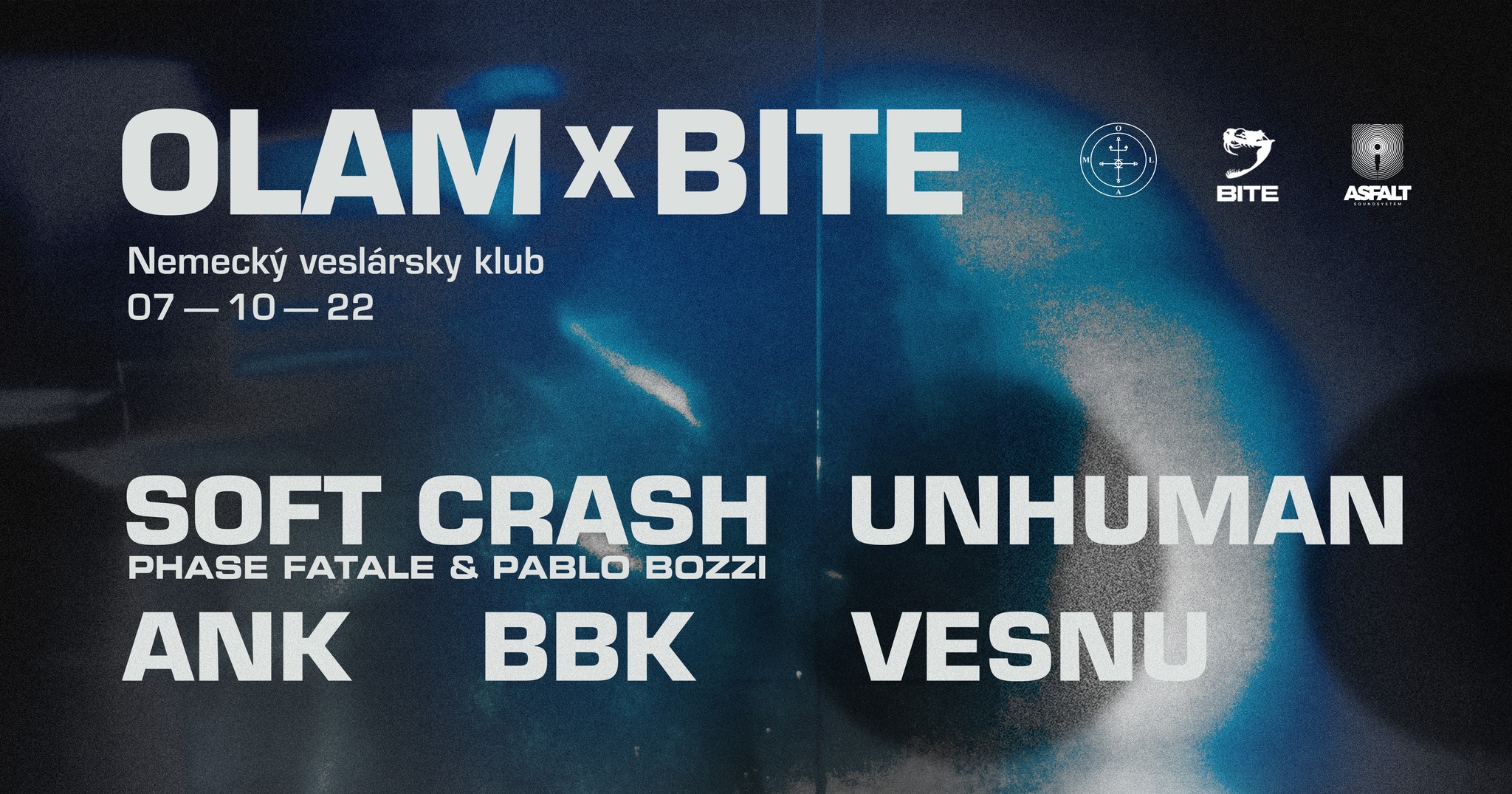 Date
07 – 08/10/2022 [Fri – Sat]
Expired!
OLAM x BITE w/ Soft Crash • Unhuman • Ank • Bbk • Vesnu
???? consigns the meaning of collaboration and acceptance between contemporary artists, by the means of various audio-visual, even performative planes that are based on decadence, the power of music, darkness and concrete. The collective is opening a circle to our very own, self-accepted world that, thanks to diverse international influence, is transmitting to our authorial Events.
We are pleased to present our next ???? circle together with ???? ???????
???? ????? [BITE Records]
https://ra.co/news/77750
https://biterecords.bandcamp.com/album/your-last-everything
https://www.youtube.com/watch?v=7XdyaTAALKs
The collaborative project of two Italo Body Music trailblazers: BITE founder – ????? ??????, and one of the label's protagonists – ????? ?????. United by a mutual passion for a particular melancholic yet sensual approach, and a sound that combines influences of synthwave, EBM, Italo and techno, the two have proved themselves to be a perfect match with 'Spritzkrieg' (2020) – their first EP on BITE.
Both based in Berlin, have been at the top of the industrial techno and ebm circuit through the last several years and have shared the stage on numerous occasions in their respective projects. Their mutual love for music outside of that sphere is what brought them together to form this alliance. Attempting to throw off the dark and authoritative stereotypes of the current music scene they helped foster, Phase Fatale and Pablo Bozzi look to their core influences of synthwave, disco, and early techno to carve a new path as Italo body music pioneers.
This time, Soft Crash present their first long player 'Your Last Everything'. The album further expands the Italo Body Music palette into electro, acid house, bleep, hi-nrg, and IDM. Each of the eight tracks on the LP sounds layered and intricate, with a variety of interactions between different technical elements and intertwining melodies that reference high production methods from the 80s and 90s turned contemporary. The album centers itself around themes of dystopian cyberpunk and surreal cinematics. It looks to invoke emotion in cold and mechanical elements, making it feel like an organic new chapter in the duo's ongoing exploration of the relationship between technology and the body. 'Your Last Everything' comes together in a sci-fi-like dramatic journey into another universe, juxtaposing internal conflicts of good and evil, creation and destruction, victory and defeat.
??????? [Liber Null Berlin/BITE records]
https://unhumangr.bandcamp.com
https://soundcloud.com/unhumangr
The Berlin-based electronic and experimental project of ????? ???????. He is also the founder of Liber Null Berlin, which has played a critical role of unifying the freedom of arts in a conceptual event in the scene and also operates as a record label. Expanding beyond Berlin, Liber Null held events with performance arts and music all around the world including Athens, Paris, Tokyo, Seoul and beyond.
Unhuman started in 2012 in Athens with his first release "Emperor Black" on tape, he evolved through different genres ultimately finding his own unique voice in experimental and dark electronics. Keeping his root in post-punk, Unhuman released on labels such as Instruments Of Discipline, Veleno Viola, BITE, Amok Tapes and Strange Therapy. A regular mainstay of major clubs in Berlin, Unhuman has performed all around Europe, Asia and South America and holds the artist in residency at Constant Value in Seoul, South Korea.
??? [OLAM Collective]
https://soundcloud.com/lukasank
The Bratislava based DJ, involved in electronic music scene since early 2000`s he hosted many festivals and events. In 2001, when the already legendary Czech magazines Trip – mag and X – mag and mixed CDs came into his hands, this experience affected him so much that electronic music became his everyday addiction. In the beginning, as a clubber he attended well-known clubs and events all over Europe, which created a desire to organise his own event.
He started playing active in 2009 and he returns behind mixing desk at Music is The Answer. At the end of 2010, he founded the project Music: Affair, whose main direction is house music, where local names have performed. In 2011, he organised his second big Open Air under the brand Music: Affair, where 12 DJs performed and he played at the open air event BeeFree for the first time. In 2016 Ank found Asfalt Soundsystem together with Bbk (David Cierny). Same year he become a part of Serbian project Lobotomija and year after he established Derivate (Asfalt Soundsystem) warehouse party which takes important role in Bratislava nightlife.
Ank is founder of OLAM collective platform that emphasises uniqueness in the local sphere. Grateful for being in right circumstances he visited many places and meet people that influenced his current music presentation. He is the creator and the seeker of an atmospheric and vivid soundscapes.
??? [Junction/OLAM Collective]
https://soundcloud.com/bbkci
Bbk has been involved in underground music scene in Bratislava for over a decade and is a member of the Junction Bratislava crew with residency in FUGA club. In addition to the Junction, Bbk is engaged in projects such as Covert Interests, Krasne Straty, Derivate and Asfalt Soundsystem. In 2022 he become a resident artist of OLAM Collective.
He is a keen record collector and known for being very skilled DJ. Expect anything from the seductive magic of quality music of Chicago house and 90's rolling techno to West Coast style electro and beyond.
????? [Queer Slovakia/Homomat/Kiki Nation]
https://soundcloud.com/vesnu
Vesnu has been creating spaces of freedom for the Slovak queer community in Bratislava for over 10 years now. He's the mother of the legendary Tepláreň party, which later transformed into the iconic queer-friendly bar. Passionately organised club nights have become a staple on the Slovak dance scene, with queer parties such as Homomat and Shame, to name a few. As a DJ, he found his home ground in these events. Vesnu is a digital shaman who yearns for people to meet their true selves on the dance floor, as well as meeting each other.
With his hypnotic beats he overcomes distances, and his playful sets with unexpected twists remind us that everything is here and now. He likes to venture from techno to house, and even to disco. He enjoys both the ecstasy of the night and the morning tenderness. Audiences in most of the domestic clubs have been entertained to the fullest, but Vesnu has performed at festivals such as Grape in Slovakia, Sziget in Hungary, and Rote Dichte in Germany too. He also had the chance to play several sets for the Berliner Betriebsfeier party or the Berliner release of Daddy Issues. He also played at Homostash in London and in the club Bukanýr in Prague.
Visual Control by our beloved ????_?????
https://www.facebook.com/ctrlspace.stdio/
@ctrlspace.stdio
***********************************
soundsystem: ????
********************
entry: 20 € (?? ???????)
********************
visuals by ???? ??????
visual identity by ???? ????????? ???????????
********************
location: https://goo.gl/maps/daynRA29U192
********************
Nemecky veslarsky klub info:
https://sk.wikipedia.org/wiki/Nemecký_veslársky_klub
***********************************